Have you ever imagined what heaven on Earth looks like? This place, thanks to 16 emerald-green lakes, countless waterfalls and a centuries-old forest, evokes what heaven on Earth should look like. In recent years, outdoor weddings have become increasingly popular. A large number of couples wish their big day to be set in idyllic greenery and natural surroundings. Outdoor weddings are different and unique. They arise from the imagination and wishes of couples, and they come true through good cooperation. Smiling and happy faces, embraced by the smell of the forest, the sound of waterfalls and the emotions of their guests, show that fairy-tale weddings are definitely possible.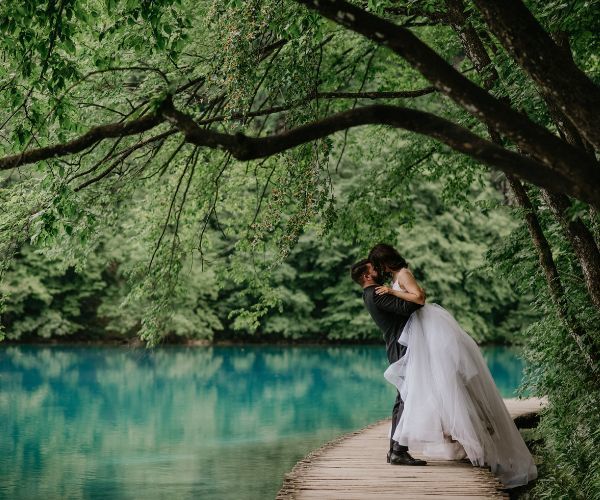 To get married under the beautiful Plitvice waterfalls. Is there anything more beautiful than that? The " Plitvice wedding" was created as a vision of the fusion of man and nature.  On October 7, 1968, the idea of couples, and international ones at that, entering into marriage under the Great Waterfall in the Plitvice Lakes National Park was fully realized. One modest ceremony which took place on August 31, 1968, when a young Lika painter Budo Vlaisavljević — Modri, striving for as much originality as possible, brought his bride to the Great Waterfall and got married there in a traditional ceremony, grew into a tourist attraction of the first order. Young and hard-working workers of the Plitvice Lakes National Park, in an effort to promote this event as much as possible and turn it into an attractive manifestation of world fame, decided to organize an international wedding at the end of every summer season, in early October, when, as they say, Plitvice Lakes are the most beautiful. And so, year after year, brides and grooms arrived under the beautiful waterfalls of Plitvice Lakes in the national costumes of their countries or regions, to enter into marriage characterizing eternal love, as eternal as the waterfalls of Plitvice Lakes.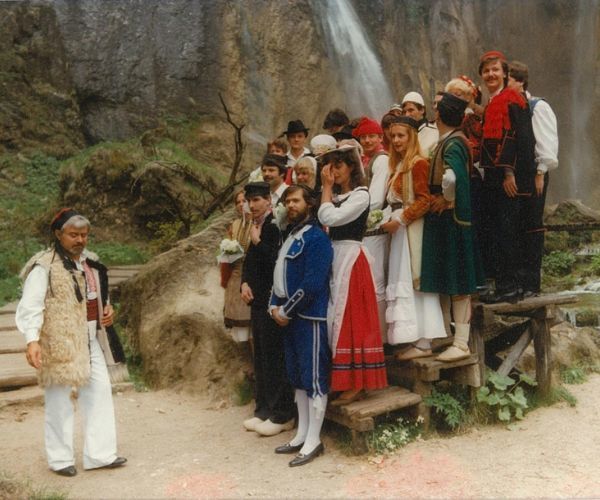 The couples were chosen in contests held by certain magazines in their respective countries through the representative office of the Tourist Association of Yugoslavia at the time, and every year more and more couples applied, from all over the world. Couples dressed in the national costumes of their countries were the centre of attention from the moment they arrived at Hotel Jezero, at the bachelor party, at the cocktail party in what was then Restaurant Lička sela and at the wedding lunch. What was then Restaurant Lička sela was an exceptional attraction because its creators took care first and foremost to show guests the rich Lika folklore and to serve specialities of Lika cuisine, lamb on a spit, škripavac cheese and Lika plum brandy. The wedding would last a week and the newlyweds would also compete in sports such as tug-of-war, stone put, etc. Reports were made about this. It was reported in several countries around the world, photojournalists captured the most beautiful moments, and the "Plitvice Wedding" event became a tradition.
You can still have a unique and original wedding in the Plitvice Lakes National Park. Do you imagine waterfalls and greenery as your backdrop as you say your fateful "yes"? If you like a more intimate atmosphere and if you want only waterfalls and lakes to witness your love, several of our scenic overlooks are the right choice. Weddings on the shores of Lake Kozjak are full of romance, fairy-tale scenery, enchanting moments and romantic photos. We also offer boat rentals where you can row and feel the charming atmosphere, and the surreal view of the sparkling crystal water leaves you breathless. For ship lovers, we offer a wedding ceremony on a ship while sailing on the largest and deepest lake in the Park.
In order to know for sure that your idea for the wedding and photography will be realized, you need to contact the Park in time. On our website, you can find the contact e-mail and information on organizing the ceremony and taking photos in the Plitvice Lakes National Park. Photos which will immortalize that very important day certainly have a special role at the wedding. Surrounded by a centuries-old forest and crystal-clear water, you will have the impression that you are in another world. One of our guides will keep you company while you stroll amorously through the Park. The relaxed atmosphere, where nature is your ideal decoration, will allow you to take photos which look just like a fascinating postcard. Wake up as a newly married couple embraced by nature and greenery. Accommodation in our hotels guarantees a stay characterized by relaxation and connection with nature. Thanks to the location of the hotel, you will enjoy a spectacular view of the lakes, the forest…
The primary activity of the National Park is its protection and preservation, and this must be considered when designing the decoration and ambience. Through discussion with colleagues and with your planner and decorator, you can find the best options for what your most important day will look like. The most important thing is communication! Your guests must be aware of where the wedding is taking place and prepare accordingly. After you have worked out all the details, chosen the location and the photographer and reviewed and agreed on everything with them, your most beautiful and romantic day can begin. If we tickled your imagination with this, let us create a new page of your fairy tale! The melody of the waterfalls is all the background music you will need on this important day. The breath-taking background is already there, a natural backdrop which changes with the seasons, if not daily.
---
IMPORTANT NOTICE:
If you are reading this article anywhere other than on A Luxury Travel Blog, then the chances are that this content has been stolen without permission.
Please make a note of the web address above and contact A Luxury Travel Blog to advise them of this issue.
Thank you for your help in combatting content theft.
---
In the spring, the start of the awakening of nature, gentle greenery and water of melted snow meadows await you here. Still-closed water lilies waiting for sunny days can be in the background of photos of the day you have imagined since you were a child. In summer, the sun attracts our attention and makes us smile through the treetops towering over the lakes which witness your love. The days are longer, the waterfalls are smaller, but even in summer, the water dust from the waterfalls gently refreshes us and mixes with tears of joy as love is confirmed by the act of marriage. Autumn arrives with plenty of colours and lures you into its embrace. Occasional rains fill the waterfalls and lakes, which complement the colourful leaves with their turquoise and green colour. The crispy morning air rising over the lakes beckons for photography. Winter tells its story of ice grey rocks in the canyon, turquoise lakes and white snowflakes slowly covering the chestnut paths. Each of these seasons is a story in itself, exceptionally beautiful in its own way. We prepare differently for each season, and in each season, we can expect both sun and rain, and we must keep this in mind when organizing a wedding in nature.
Turn your fantasies into reality and start your fairy tale in an environment of magical natural beauty, with an unforgettable wedding at Plitvice Lakes, with waterfalls and lakes witnessing your love!
Tomislav Kovačević is General Manager at Plitvice Lakes National Park. Plitvice Lakes National Park is the oldest and biggest national park in Croatia.
If you would like to be a guest blogger on A Luxury Travel Blog in order to raise your profile, please contact us.